WELCOME
Gilles Duhaut has perpetuated and developed for more than 35 years the training of the new generation of bowmakers .
In his workshop located in Tours, he provides long training courses for a two years' duration, to allow the trainees from around the world acquire the technique of artisanal bow making while responding to the requirements of the evolution of musicians who use a bow.

Gilles Duhaut has followed his learning (1973-1976) in the famous School of Lutherie and Archèterie of Mirecourt, - the city of luthiers -, under the direction of Master Bernard OUCHARD.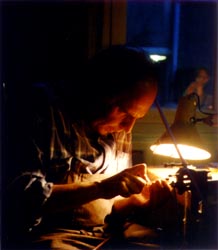 Gilles Duhaut strives to keep up the tradition which has earned the French School of Bowmaking its reputation throughout the world.


To execute his skills, Gilles uses only the finest materials. Pernambouco wood is scrupulously chosen and selected to obtain the difficult compromise between elasticity, flexibility and tautness of the stick, in the steps of the grand French Masters of the 19th Century.


Less effort is required to produce a rigid bow, which is also easier to use.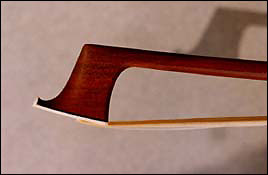 Gilles Duhaut endeavours to combine the strength of a rigid bow and the powerful sonority of a flexible bow in his creations. His personal aim is to satisfy the player's ear, because the musician's hand is guided by the sound.


Moreover, he works on his bows in order to provide a comfortable grip and easy play. The musician must become oblivious of his bow to immerse himself completely in the music.


His bows are entirely handmade, thus guaranteeing the originality of each piece. In the same spirit, Gilles Duhaut makes bows for violin, alto, cello and doublebass as well.


Gilles Duhaut believes that an instrument player is first and foremost a musician rather than a technician. This is the reason why he constantly strives to refine the resonance of a bow, being convinced that the strength of the sound produced by an instrument can be modified by the bow.